Payment can be made to any of the following:
Cash
Cheque
Online Transaction
Cash Deposit
Cheque is to be issued in favour of "SunMed Velocity Sdn Bhd"
Refund
Amount received in excess of the total bill will be refunded. The refund will be either in cash, cheque or credit card depending on the initial mode of payment. Any refund during Sunday, State Holiday or Public Holidays will be done on the next working day.
Credit Card
Within a period of 7 working days.
Cheque
Will be deposited within 10 working days from the date of discharge to the payor account.
Cash
At Discharge Counter, 1st Floor.

Monday to Friday - 8.30 am to 5:30 pm
Saturday - 8.30 am to 1.00 pm
Sunday and Public Holiday - Closed
Insurance & TPA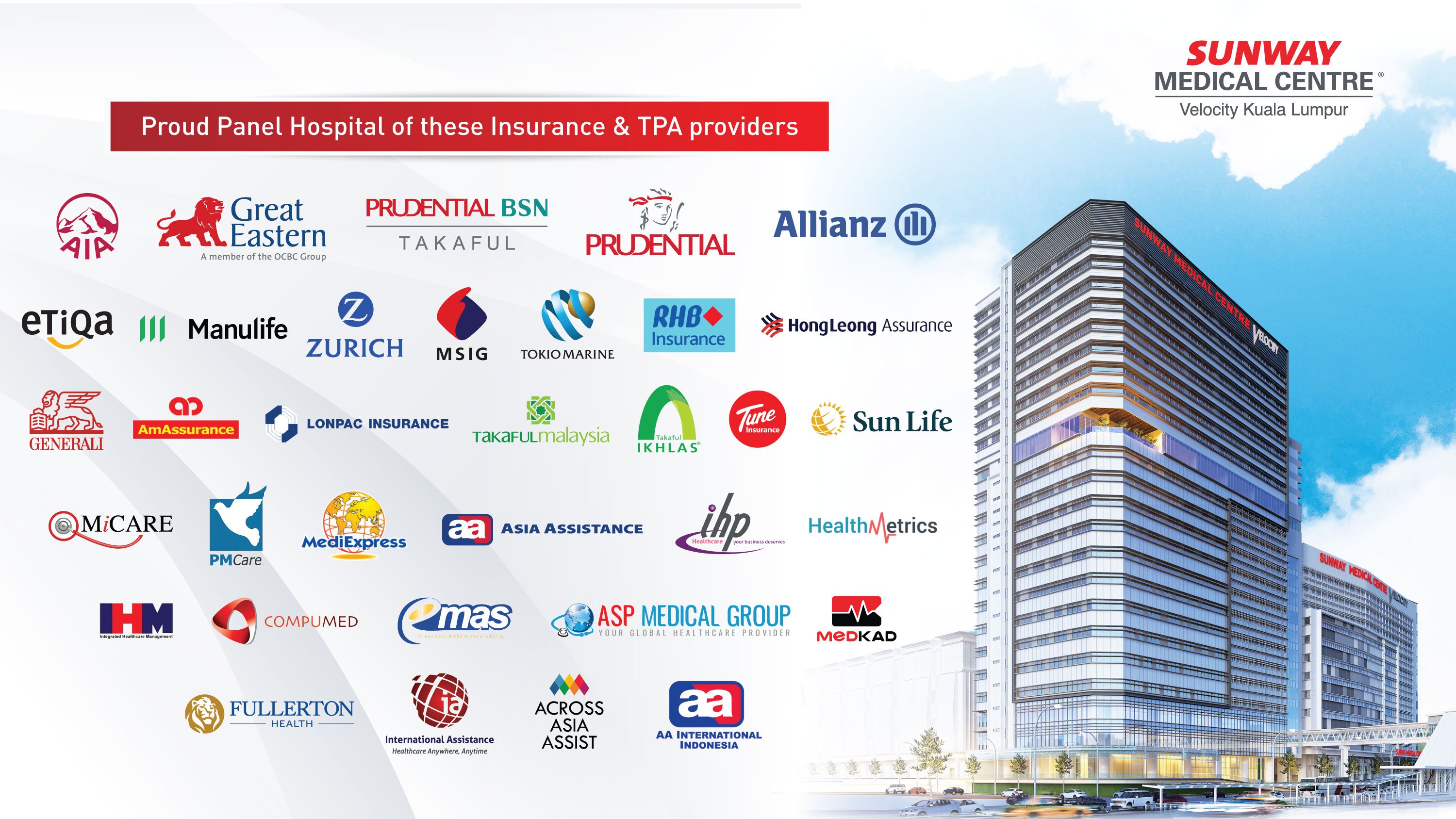 Here is a list of insurance companies and managed care organisations that Sunway Medical Centre Velocity accepts:
List of Panel Insurance:
AIA Malaysia
Allianz Life Insurance Malaysia Berhad
Etiqa Insurance & Takaful
Great Eastern Life Assurance (Malaysia) Berhad
Prudential Assurance Malaysia Berhad
Prudential BSN Takaful Berhad (PruBSN)
Hong Leong Assurance
List of TPA (Malaysia):
Health Metrics Sdn Bhd
MiCare Sdn Bhd
PMCare Sdn Bhd
MediExpress (Malaysia) Sdn Bhd
Selcare Management Sdn Bhd
Health Connect Sdn Bhd
Asia Assistance
Integrated Health Plans (Malaysia) aka COSSB
ASP Medical Clinic Sdn Bhd
MediLink-Global Sdn Bhd
Compumed Services Sdn Bhd
Eximus Medical Administration Solutions (E-MAS)
International SOS (Malaysia) Sdn Bhd
Integrated Healthcare Management (IHM)
Tejani Emergency Assistance (M) Sdn Bhd
IA Assistance
Medkad Sdn Bhd
International Insurance & TPA
List of Panel Insurance:
IA International
Prestige International
EMA Global
Across Asia Assist
We are working towards getting more Insurance and managed care associations to serve you better. The listing will be updated from time to time. Call us at 03 9772 9191 to find out more. Thank you.